Return to Play – Monday 26th April 2021
We are delighted to welcome back all our members for the 2021 season.
Please click the following link to review the current guidelines : Pitch & Putt Ireland Return to Play Protocol
There has been some great work going on behind the scenes to make our fantastic course even more enjoyable.
Best of luck to everyone in the upcoming season and a big welcome to all our new members.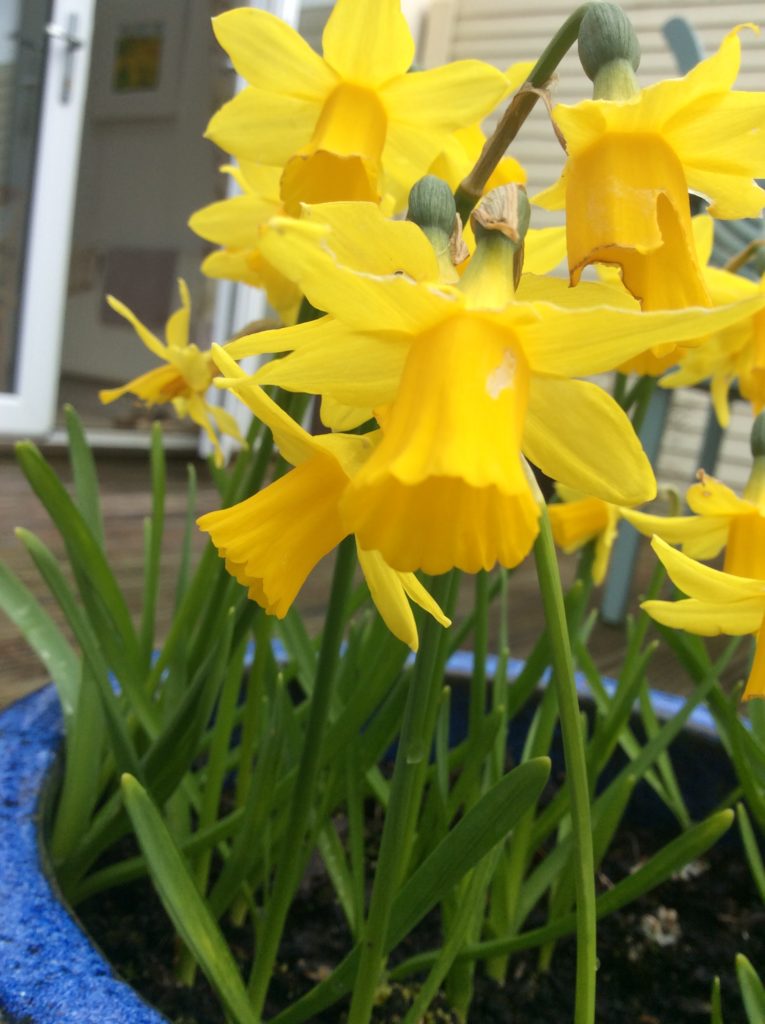 Royal Meath Pitch and Putt Club 2021:
In order to comply with Covid Requirements and to ensure Social Distancing please note the following in regard to the protocols that will be in place for our Christmas Hamper Competition
€5 will be collected in a box from you as you enter the car park. It would be preferable if you had the exact change to pay your €5
Members are asked to change at their car and to remain in or at their cars until the draw is made at which time you will be called. Everybody is asked to wear masks in and around clubhouse until you go out to play on the course.
There will be no need to sign the contact log as we will have your name recorded as an entrant.
Please ensure the social distancing requirements when on the course
Results will be published on the website within a couple of days
To avoid passing around score cards the signature on the person who marks the card will be sufficient.
Reminder to Dublin Clubs and Players
COVID-19 Update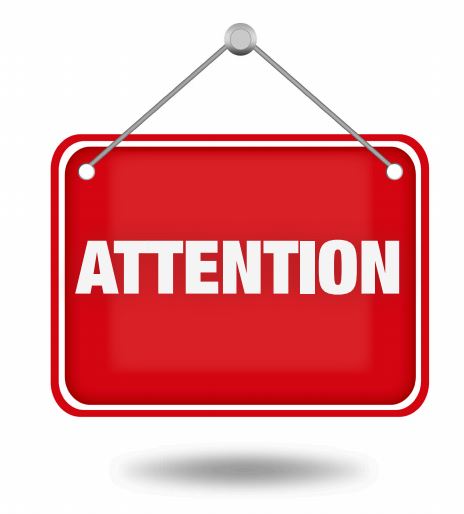 Following the latest Guidelines from the Government, Dublin Clubs and Players are reminded that no Players from outside Dublin are allowed play in your Competitions and no Players from Dublin are allowed to play in Clubs outside Dublin.
Please stay safe and keep washing those hands.
NEC
Pitch and Putt Ireland
CORONAVIRUS (Covid – 19) Update:
The club wish all members and there families well at this difficult time. Stay safe and follow all HSE GUIDELINES with respect to the CORONAVIRUS (COVID-19) .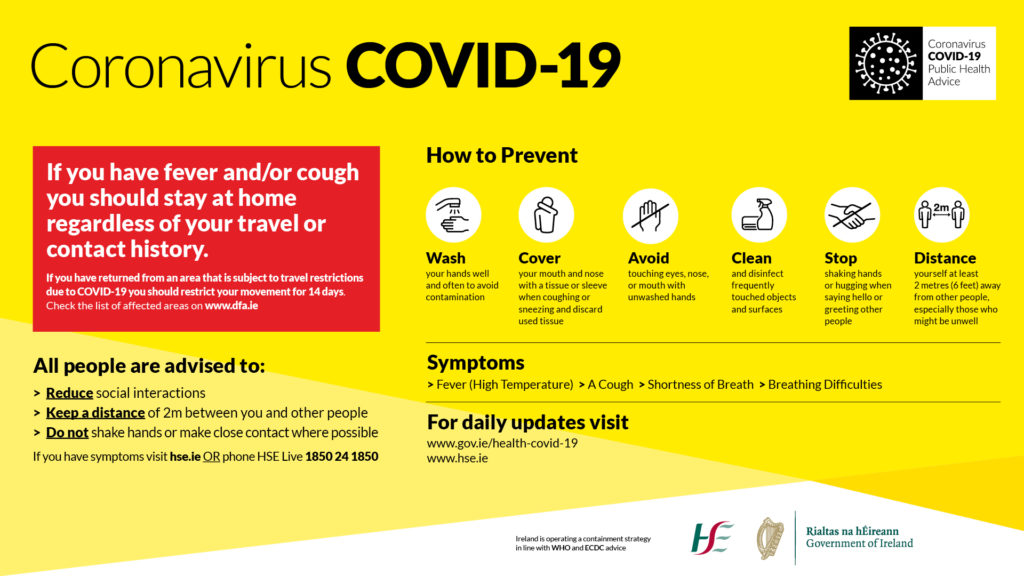 2020 COVID-19
P.P.U.I. – 19/08/2020 – LATEST
Covid-19
Pitch and Putt Ireland
Update for all Clubs
Following the Government's announcement on Tuesday 18th August in relation to new public health measures, clubs are reminded that these come into effect immediately.
All existing public health, social distancing and hygiene measures remain in place and must be adhered to.
All current fixtures remain in place but must be played without spectators.
Attendance by one parent or guardian in a safeguarding capacity for those aged 17 and under is allowed and is not considered a spectator in this case.
There should be strict avoidance of social gatherings before and after Competitions (no shotgun starts or prize presentations for example).
Coaching sessions should be limited to 15 people to include tutors and supervisors.
Club meetings taking place indoors must adhere to new guidelines of a maximum of 6 people.
For members aged over 70 or those medically vulnerable, you should use your individual judgement to minimise your risk.
If a member of your club contracts Coronavirus you should contact the HSE for advice.
The HSE service is available on 1850 241850.
Further updates on protocols will follow.
Clubs in Kildare and Offaly are still subject to other restrictions which remain in place until mid-night Sunday 23rd August.
Dress Code Applies on Course.
Please Repair all Pitch Marks.
Note: All players must sign the log in Clubhouse before playing.
Congratulations to Dan O'Toole, Stephen Knight, and Andrew O'Brien (Inters)and Paul Crawley (Junior)who recently qualified at Royal Meath for the National Strokeplay Finals to be held in Collins Cork on 19th Sept (Junior) and 26th Sept (Inters). We wish them the very best of luck in the finals.
Congratulations to Teresa Fagan and Rachel Crawley who will represent the club in the Ladies National Strokeplay Finals in Kilbeggan on 19th and 20th Sept and we wish them the best of luck in the Finals.
Congratulations to Paul Crawley in winning 3rd Place in Junior Grade with a score of 105 Gross at Meath Masters @ Castletown Sat. 3rd Oct. 2020.
Royal Meath – Club Competition Schedule October to end December 2020.
Saturday – Scramble – Christmas Hamper League-
• 36 Hole Scramble tee off each Saturday at 1PM –Entry €5.
• From Sat. 10th October to Sat.12th December weather permitting.
• Christmas Hamper valued at €200 for the overall winner.
• Christmas Vouchers for other winners based on their league position.
• Teams will be drawn out each Saturday.
• Names must be in clubhouse by 12.50pm each Saturday.
Points will be awarded to each team member each Saturday as follows.
Winning team – Each player will receive 5 Points.
Second placed Team – Each Player will receive 4 Points.
Third Placed Team– Each player will receive 3 Points.
Fourth Placed Team – Each Player will receive 2 Points.
All players will receive 1 Point for playing that day.
A league table will be displayed on notice board and the player who has the most points at the end will receive the Hamper. The committee will then award a number of vouchers based on the amount of Income generated over the life of the competition to the succeeding players accordingly. To allow for inclement weather and of failing light the committee reserve the right to cancel or to move the day or time of the competition or to curtail the competition earlier that 12thDecember if they see fit.
Sunday Morning Competition
• 36 Hole Singles – Stableford- Entry €5
• Tee off each Sun from 9AM to 10.30AM – Weather permitting
• From Sun.11th October to Sun.13th December
What is Stableford.
Stableford is basically a strokeplay competition but each hole is scored individually. This means that if you have a particularly bad hole it doesn't impact on you total round to the same extent that it normally. It will only cost you a point or two. Please see below on how it is scored.
How Stableford is scored.
Your handicap is allocated according to the index on the card. For example- if your handicap is 10 you have a shot for holes indexed 1 to 10. You reduce the score that you obtain on a hole by a shot if you have a handicap for that hole, then score as follows.
Par is 3. For a hole completed in one over par – 1 point, for hole completed in par – 2 points, For hole completed in one under par – 3 points, For hole completed in two under par – 4 points, For hole completed in three under par – 5 points (Hole in one that you have a shot on)
The above scoring is for information only and cards should be marked as normal and the committee will calculate the points scored.
Gary Flanagan Club Matchplay Champion 2020
The Club Matchplay Final 2020 was won by Gary Flanagan beaten Stephen Knight in a closely fought Final in glorious sunshine at Royal Meath this Sun afternoon 27th Sept. The match went all the way to 36 hole with Gary going one up on 35th and needing just to hold his nerve going to the last. Gary kept one of his best shots of the final for the last to hit a beauty to within 4 feet of the hole and Stephen needing something special hit to within 8 feet. Stephen to putt first needed to hold to keep match alive but narrowly missed and match was conceded. Congratulations to both players for a great display of pitch and putt and how Matchplay is played. Congratulations also to Brian Flanagan on winning 3rd place and having a great tournament.
As always a big Thank You to Competition Team of Comp Sec Brian Lynch and his team Dan O'Toole, Jason Carr and Stephen Knight for the way the Club Matchplay 2020 and all this season events were organized and run and to the Grounds Team of Chairman Billy Lynch, Brian Lynch, and volunteers who had course looking in fabulous condition for these events and the time and effort they put in to achieve this. THANK YOU ALL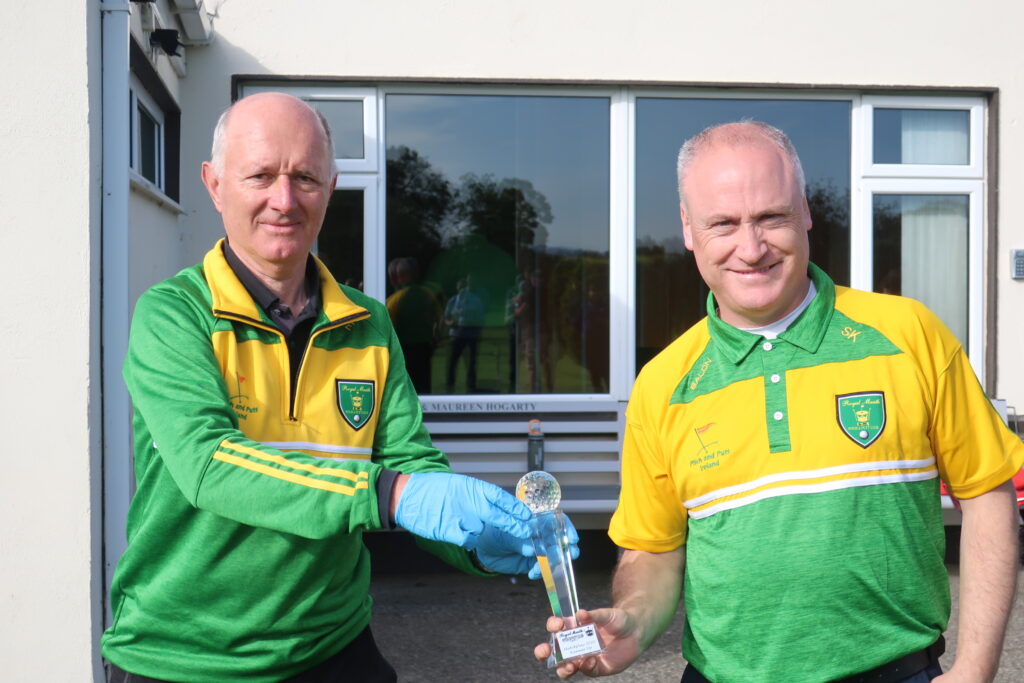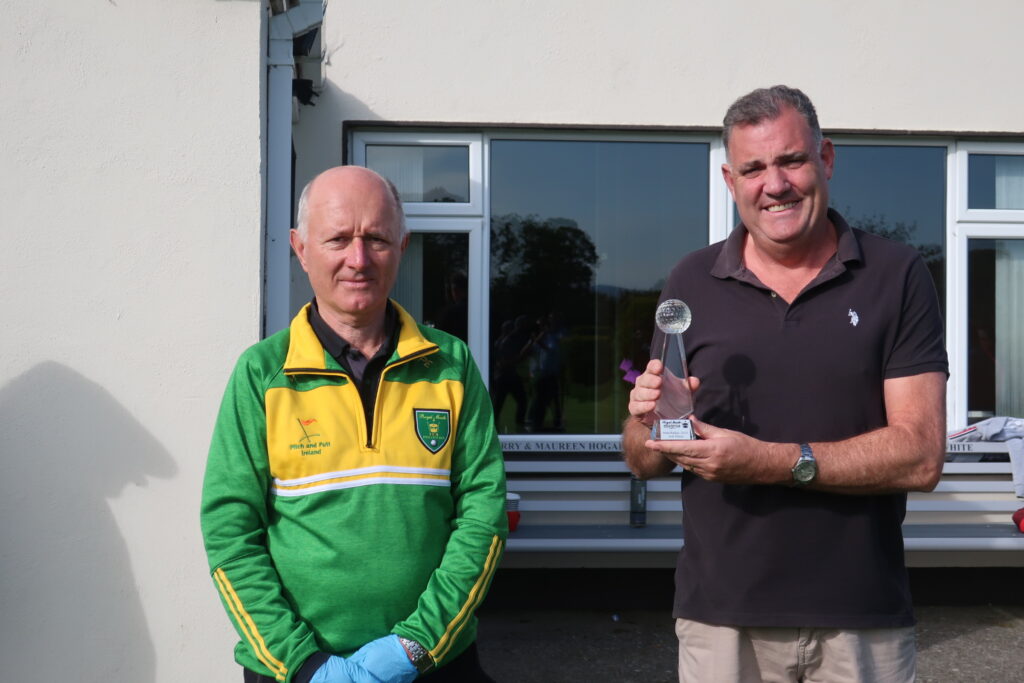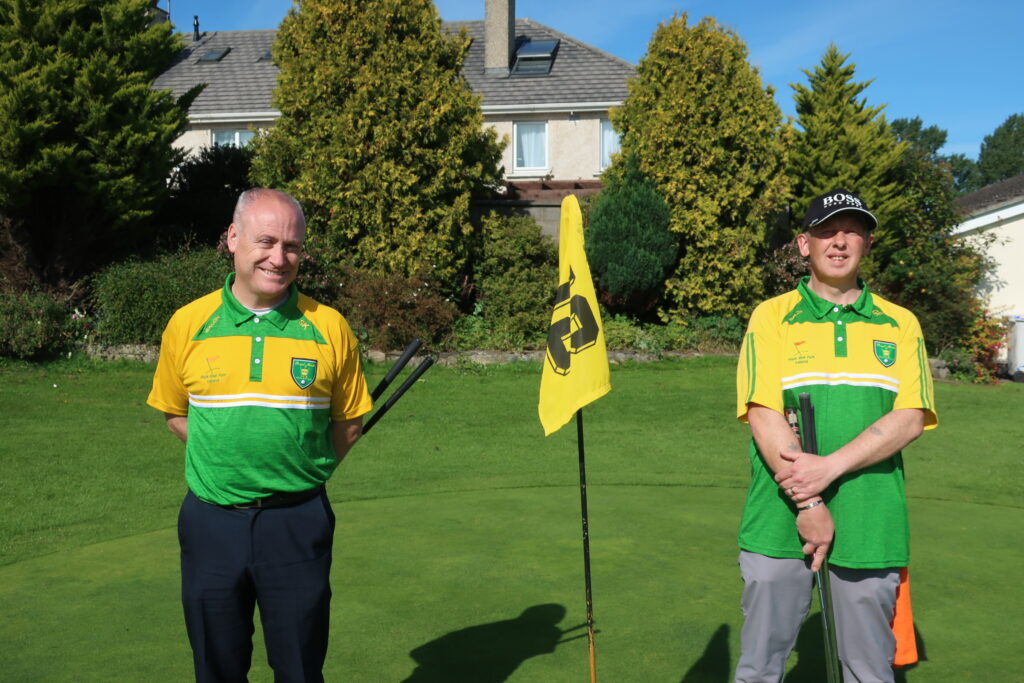 Final Major of the season- Deceased Members Shield
Deceased Members Shield- Overall 36 Nett Winner was John Reilly who was presented with DMS shield and his prize of overnight in Dunboyne Castle for two. This Prize was kindly sponsored by the Crawley Family .DSM winners can be seen on results page. Click on Results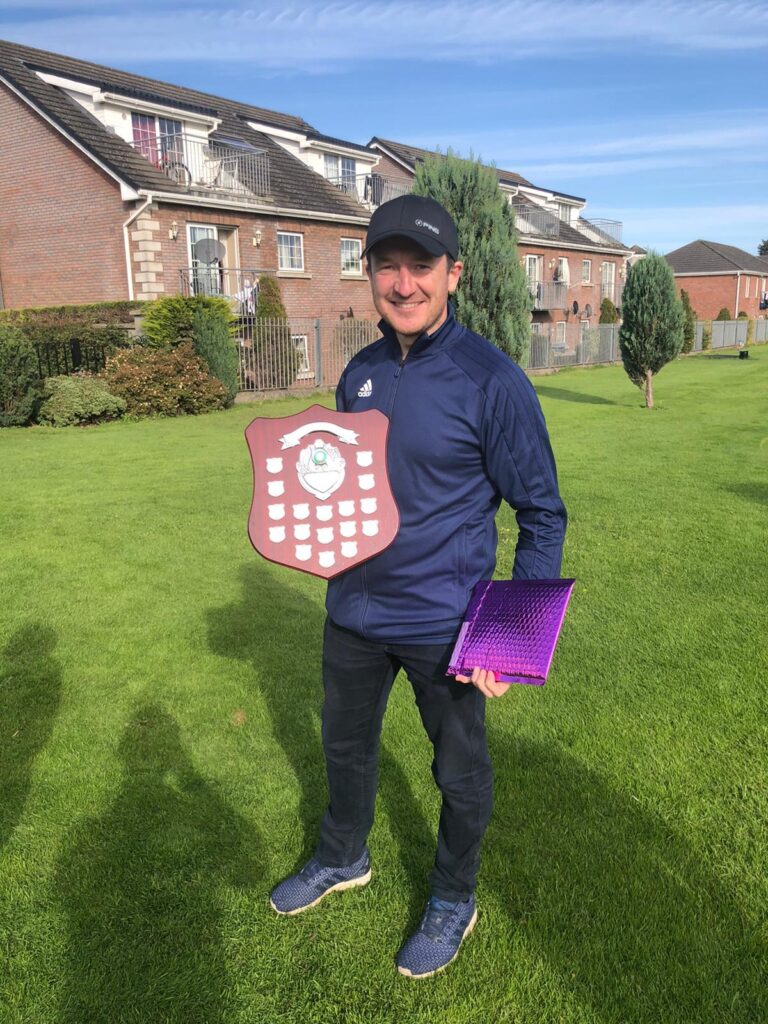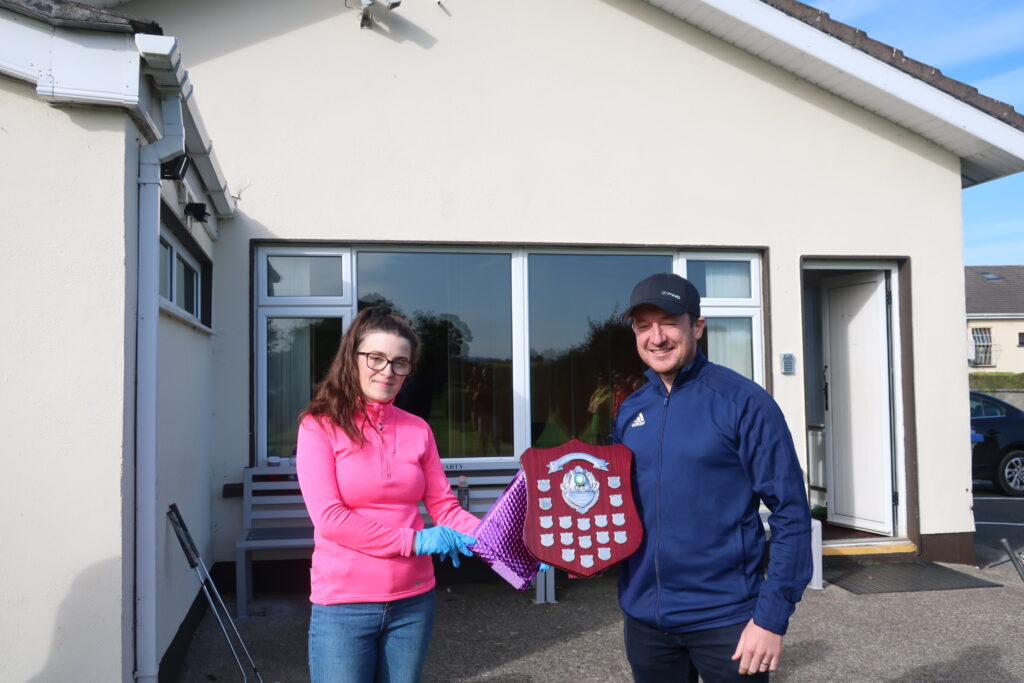 Notice to Members
Introduce a friend to the club
In order to promote our club and in the hope of encouraging new membership we are encouraging all members to bring down a friend to try out our course.
All you have to do is ask any committee member for a free voucher to do so.
Once you have the voucher all you only have to fill in the visitors name and put it in the box in the club just prior to using the course. You may use as many vouchers as you wish but you may not bring the same person for a second visit.
This Season Monday Evening Scrambles and Thurs Evening Strokeplays are now finished due to shortened Evenings. Thanks to all members who supported this fun Evening where everybody got to meet and greet and know each other over the season.
This Season Monday Evening Scrambles and Thurs Evening Strokeplays are now finished due to shortened Evenings. Thanks to all members who supported this fun Evening where everybody got to meet and greet and know each other over the season.
We look forward to seeing you all over the Autumn/ Winter period for some pitch and putt.
Royal Meath Club Matchplay 2020.
Draw Sheet is posted in clubhouse and on Club Matchplay page web.
The club would like to welcome all new members and hope they enjoy the coming year playing at Royal Meath Pitch and Putt Club. If you have any questions or queries please contact any member of committee who would be glad to advise and help.
Further details to follow on club guidelines.
2020 Return to Pitch and Putt
P.P.U.I. – 25/06/2020 – Phase 3 Protocols
Phase 3 for the Return to Pitch and Putt June 29th
Pitch and Putt Ireland are pleased to publish protocols for a safe return to playing our Sport, our aim is to ensure that it is played in a safe environment during this pandemic. It is important that clubs take on board all aspects of these protocols.
The health of our members and all others who play our sport is very much to the forefront of our thinking, and therefore it is vitally important that all players are familiar with public health measure as set out by the Government. It is pretty much agreed by all medical personnel that this virus doesn't like the outdoors and therefore there is a much lesser chance of contracting it, while out playing, provided social distancing and proper hand hygiene and cough etiquette are strictly observed.
This is the only official document on protocols for a return to playing, all other documents circulating have not been submitted to Sport Ireland.
Clubs must ensure that: –
Members with colds or any symptoms of COVID-19 must stay away from courses
Social distancing rules are observed by members & guests both on the course and in car park
Clubs should appoint a COVID-19 Officer to ensure consistent compliance with the Protocol (see link on website for Training)
Play in Phase 3 is for members, members guests and green fees
Clubs must have a logging system for everyone who visits the Club, they should have the name of the person, contact number and time they visited the Club (this is essential for contact tracing)
Maximum of four players per tee (at ten-minute intervals)
Clubhouses may open, but strict adherence to Social Distance must be observed
Do not handle the other players clubs or golf balls and do not shake hands
Members are reminded not to touch flags or flagsticks. Cups can be altered for easy retrieval of the ball. Attachments to flagsticks are commercially available to allow players to retrieve the ball without handling flagstick. To facilitate this the rule that the flagstick must be removed and placed off the green is being suspended temporarily
Alternatively play can proceed without flagsticks
Rakes must be removed from the course
Club Competitions may be played, but there must be strict measures in place to avoid close contact when entering and paying fees and collecting scorecards
Limited Open Competitions can take place after the 20th July with the above conditions
If scorecards are being used, the player will mark his playing partners card and sign it at the end of the round, with the score agreed by both players
If this is the chosen option, due care and attention will be needed at the collection point, surfaces must be cleaned on a regular basis and handwashing/sanitiser facilities should be provided. The committee should request that the player fills in his details on the card with the date and the name of the competition
The committee should put in place a method for the safe return of the scorecard, they may accept a photo of the card by text or email etc. If cards are returned the committee person who oversees the competition should not handle the cards for at least 24 hours
Clubs should erect signage in relation to Social distancing and should ensure that they have adequate handwashing facilities
Hand sanitisers should also be made available
If toilet facilities are used, they should be cleaned on a regular basis
Juvenile members may play together
Remove movable seats, if seats are fixed in the ground put up signs to let members know that they are not to be used
Players must observe the following rules: –
If you are ill or have any symptoms of COVID 19 stay home
Ensure your group is no greater than that allowed by the club
Do not exchange equipment with any others
Wash your hands and equipment before you leave home
Travel to the course on your own or with members of your own household only
Always observe Social Distancing
Change your shoes in the car park
Payers are asked to smooth bunkers using their feet or a club
Do not use water fountains, ball cleaners
After your round return to your car, change your shoes and put your equipment in the car and leave
If you must use the toilet facilities, ensure you adhere to health and safety guidelines
In addition: –
Bring your own sanitiser to the course & use regularly during the round
Bring your own food/hydration to the course
It is most important that clubs take whatever steps are necessary to ensure implementation of these protocols. We know that these restrictions are not going to last forever, and we also know that other opinions will abound, but we think these protocols will allow for the safe playing of Pitch and Putt.
Please stay safe and adhere to all Government and HSE guidelines.
NEC Pitch and Putt Ireland
Looking forward to seeing all members supporting weekend competitions and club events .
_____________________________________________________________________________